TIMETABLE: July 1, 2009
@ W139 (Warmoesstraat 139, Amsterdam)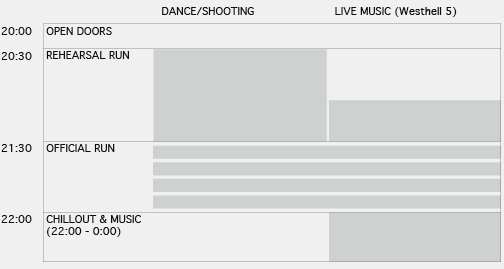 Open doors: 20:00
Please be on time to pick up your drink vouchers and information sheet at the registration desk.
At the registration desk you will also be asked to confirm your participation/attendence.

Begin: 20:30
After a short introduction, I will handover the mike to Luc van Esch, the dance instructor, who will guide you through the evening.

Rehearsal: 20:30 - 21:30
The "REHEARSAL RUN" is scheduled from 20:30 to 21:30.
Luc van Esch will repeat the dancing steps once again and will give the final instructions to dance the Le Madison in a group.
Sarah van Lamswerde and Tashi Iwaoka will assist him and provide individual support.
The whole evening will be accompanied by the live band Westhell 5. The "Rehearsal Run" will be video filmed.

Shooting: 21:30 - 22:00
After the "Rehearsal Run" we will continue with the "OFFICIAL SHOOTING".
The "Official Run" will be about the length of the original movie sequence (approx. 5 min).
We will repeat that sequence 3-4 times.


:
Please be dressed in everyday casual wear.
Children (up to 17 years) may participate, if they do so with a parent.
You will be asked to confirm your acceptance to be recorded: You agree to surrender any and all rights regarding the recorded material.
In terms of liability we will ask you to sign a "Release of Liability."