Rewind
2000, PAL 4:3, 5 min, colour, stereo, music: Shabotinski - (B)ypass (K)ill:
Rückenwind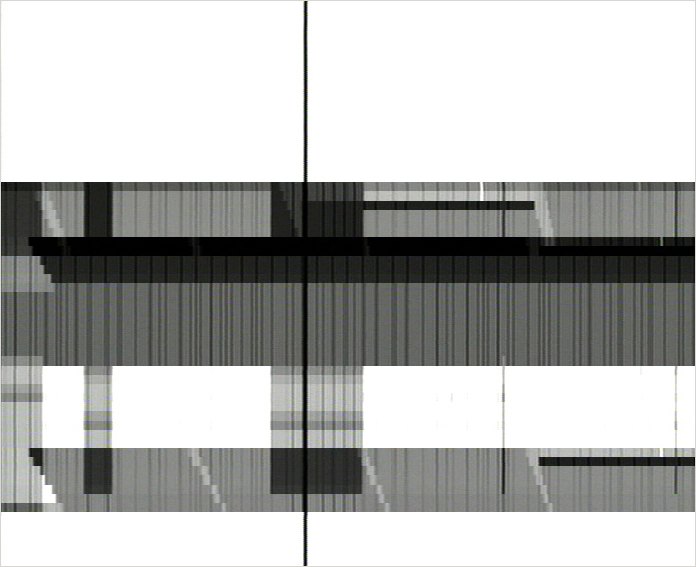 © Video stills
Rewind
is based on a piece of music: an electronic track entitled
Rückenwind
is provided as the source material, a composition by Shabotinski in which a deep frequency melodic fragment is swirled around by a delicate track of sounds. It clicks, pounds, whooshes, hums, and crackles around the quietly resounding basic theme of the piece. The abstract visual level emphasises the soundtrack, suggesting a digital score, and is vaguely reminiscent of music applications, the user-interface of composition software. At the same time the minimalist images suggest a continual forwards movement, gliding ahead on a parallel voyage through the virtual space: mobile geometry.
The first minute of this production is frugally orchestrated, both visually and acoustically: the narrow horizontal track grows only gradually and unceasingly transforms on a white background into subliminal sound atmospheres. A mobile vertical line is added while the graphical basic structures become broader, brighter and more complex. The restless dance of the vertical line could be a reference to old cinema, an ironic message from the digital world to the analogue world of earlier times, an associative allusion to the vulnerable nature of the photographic filmic image. A brief caesura occurs after about three minutes: the work then tips unexpectedly from the black, grey, and white tones that dominate
Rewind
into blurred and distorted images in real colours, into restless and clearly hand-shot footage where one suspects passers-by scurry-ing through the streets. The pastel coloured apparition does not even survive for 20 seconds before the return to artificially jolting machine animations extinguishes any remaining illusion of reality.
First proximity is established, then distance is taken:
Rewind
leads from a close-up detail back into the full-view of a strictly organised world, seen from a distance, that is dismantled into its pixels and so transformed into a vast field of digital microorganisms. At the end remains only a grey line onto which the credits are blended. The rewind in the title may be playing on the concealed meanings that can only be appreciated with a retrospective glance: it is presumably no coincidence that the term "rewind" is concealed in the (original) music title Rückenwind.
(Stefan Grissemann)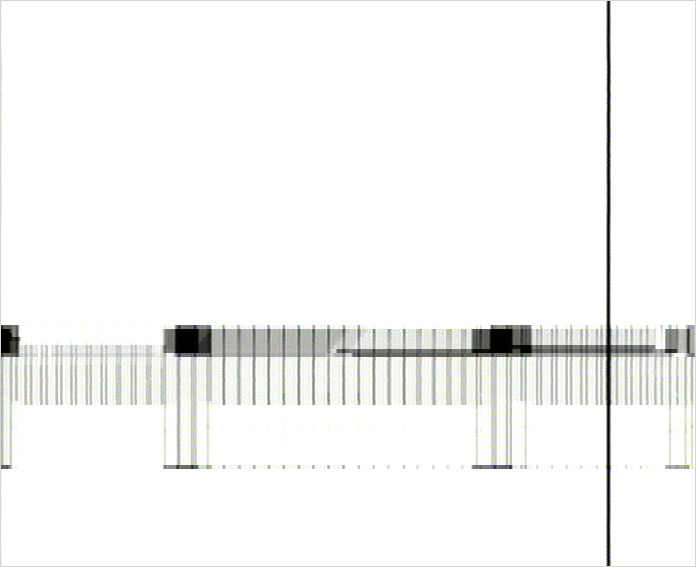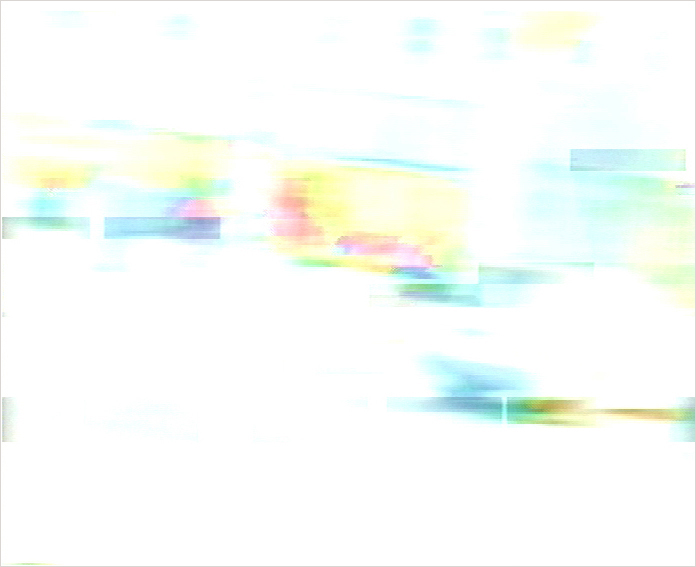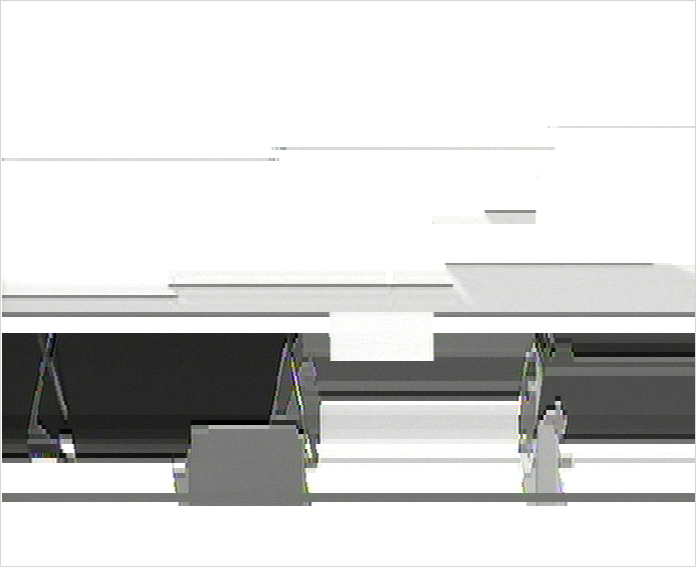 © Video stills
[VIDEO]:
Rewind
Exhibitions: •
LKW Kunst in der Stadt – 19 Räume
, Kunstverein Bregenz, Bregenz, A 2000 •
Sound Files
, Künstlerhaus Wien, Wien/Vienna, A 2001 •
Variable Stücke
, Galerie im Taxispalais, Innsbruck, A 2001 •
coord()
, Kunstverein Medienturm, Graz, A 2003 •
See the Rhythm!
, KBB Art Space, Barcelona, E 2004
Festivals: •
Diagonale – Festival des Österr. Films
, Graz, A 2000 • Internationaler Videokunstpreis ZKM, Karlsruhe, D 2000 •
Sonar – Int. Festival of Advanced Music and Multimedia Arts
, Barcelona, E 2000 •
Cinematexas – Int. Shortfilm, Video and New Media Festival), Austin, USA 2000 • Int.Film Festival, Denver, USA 2000 • Avanto – Helsinki Media Art Festival, Helsinki, FIN 2000 • Int. Kurzfilmtage Winterthur, Winterthur, CH 2000 • Acces(s) Electronic Culture Festival, Pau, F 2001 • Wand 5 – 14. Filmwinter, Stuttgart, D 2001 • Transmediale – Videofest 01, Berlin, D 2001 • Media City 7, Windsor, GB 2001 • NY Underground Film Festival, New York, USA 2001 • Thaw01 – Festival of Video, Film & Digital Media, Iowa City, USA 2001 • WRO – Int. Media Art Biennale, Wroclaw, PL 2001 • VIDEOEXperimental: Video & Film Festival, Zürich, CH 2001 • Tough Eye – Animated Film Festival, Turku, FIN 2001 • 17. Int. Kurzfilmfestival & No Budget, Hamburg, D 2001 • The Norwegian Short Film Festival, Grimstad, N 2001 • Chicago Underground Film Festival, Chicago, USA 2001 • Channel Islands Indie Film, Oxnard, USA 2001 • Impakt, Utrecht, NL 2001 • Film Festival, Olympia, GR 2001 • New York Expo of Short Film & Video, New York, USA 2001 • Lille 03 – Rencontres Audiovisuelles, Lille, F 2003

No: 00-001


Video distribution:
sixpackfilm