Scenes From a Forest
A 2015 | 30 min | HD 16:9 | colour | stereo | english subtitles
"I wander around with no place to go, for no good reason", says the voice in Annja Krautgasser's tightly structured experimental piece. A young woman roams aimlessly through a cold, wet forest, surveying the light, shadows and darkness, walking imaginary dogs, searching for she knows not what. Again and again Martin Putz' camera captures still-lifes – treetops concealed behind a thick curtain of rain – before finally pressing onwards with the protagonist into the inhospitable, strangely unreal setting. The character penetrates ever deeper into a labyrinth, following differing threads that become entangled or lead her and the viewer astray.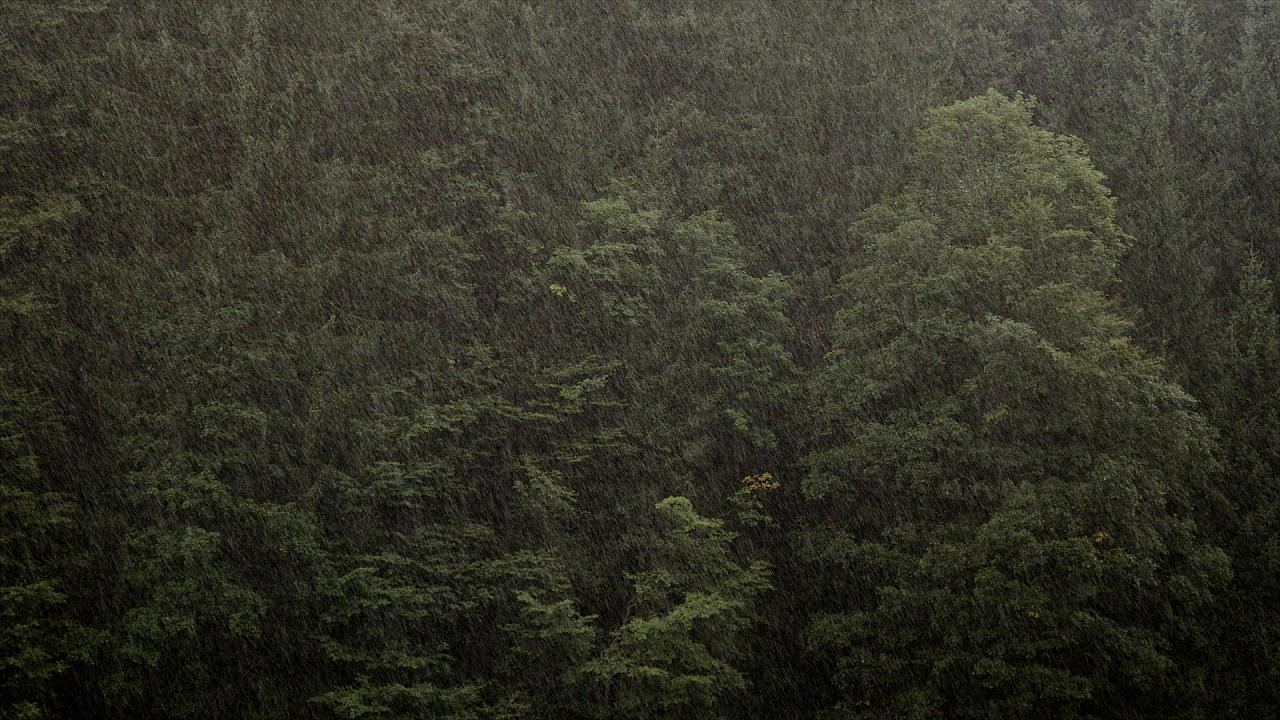 © video still
Based on passages from Agnès Hoffmann's novel
so viele Tage
, Krautgasser pieces together a narrative that portrays and utilizes the forest as both a stage and an object of projection or reflection. Among the moss and branches the protagonist finds herself, with utter plausibility, drawn into in a television interview, which (in reference to Jean-Luc Godard's
One plus One Sympathy – for the Devil
) mutates into an absurd round of 20 questions. Yet if Godard's interview subject (Eve Democracy) was driven by a thirst for revolution, Krautgasser's roaming protagonist, Alva, is characterized by pragmatism and sobriety: "Is it still possible to be a revolutionary?" she is asked. No, she says – as detached and distant as the setting itself.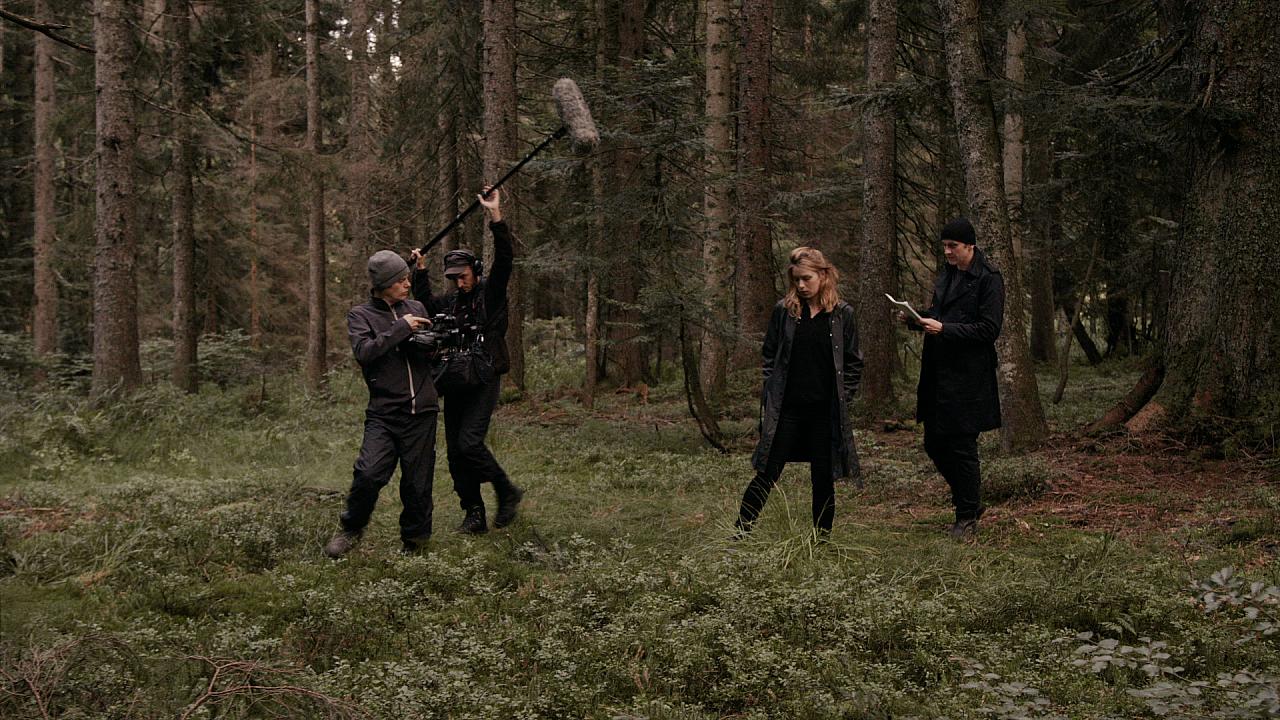 © video still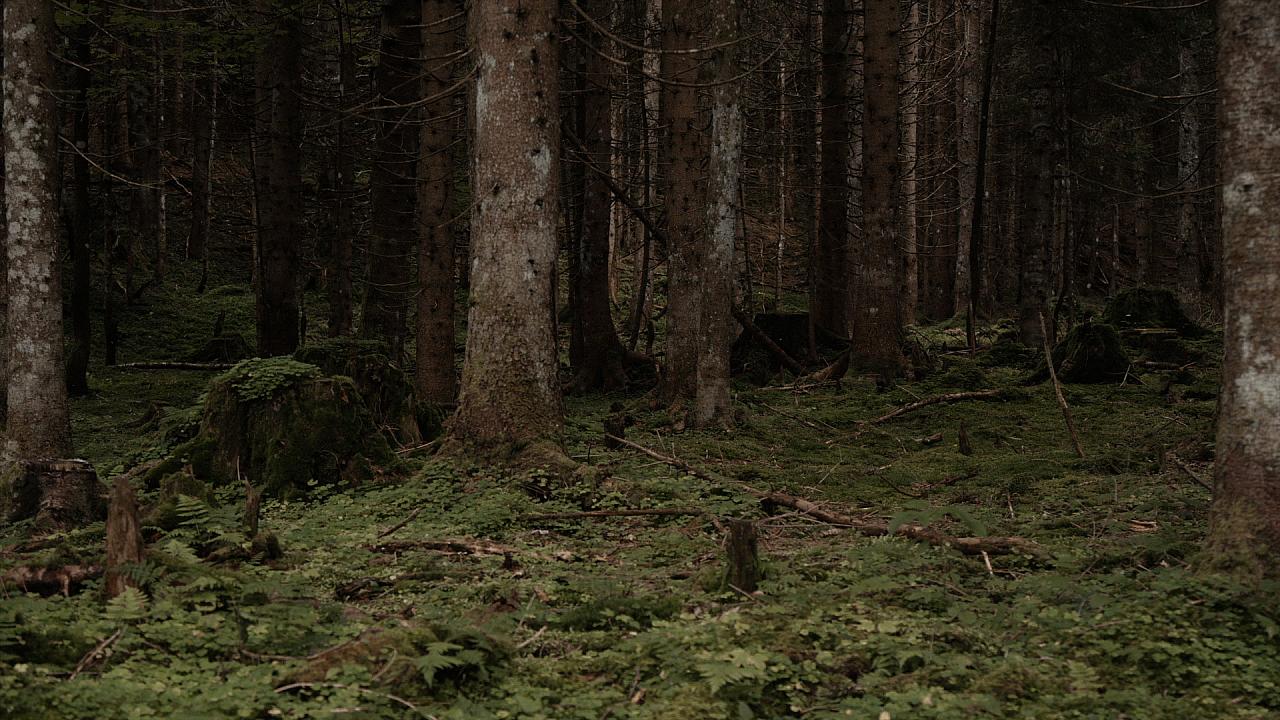 © video still
Such references allow these seemingly timeless scenes from a forest to reveal their historical context, as the undefined no-man's-land is set, albeit vaguely, in the present. "Were you trying to call Maria Alyokhina?" the reporter demands. "Or Edward Snowden? Or Arifa Bibi?" The conversation quickly devolves into a survey of systematic dependencies, from capital to consumption to crystal meth. And ultimately loses itself in the forested expanses – calm, methodic, indefinite.
This is not to be the only reenactment that takes place in the woods. On the contrary, the coniferous woodland is revealed to be a complex system of references between protagonist, film and world. In one scene pilgrims pass through the deserted woods without taking any notice of Alva. In another the mythologically laden (and opulently photographed) natural surroundings, richly populated with demons, is set to life with tonewood: Ascan Breuer meets Apichatpong Weerasethakul. The wanderer becomes a modern shaman –
somehow lost in space
.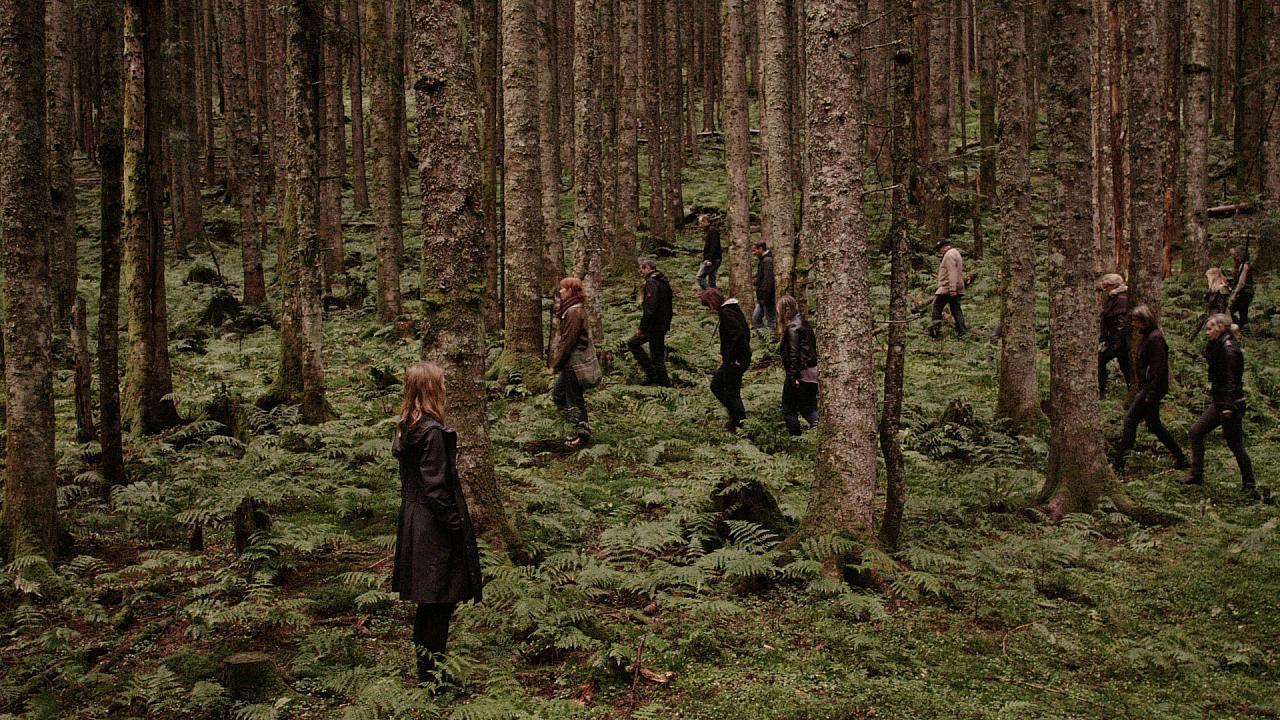 © video still
"It documents a battle on a hardened front," writes Amon Brandt about the film by Breuer cited above, by which Brandt means the so-called battle for reality. Precisely this battle may tie together Krautgasser's different narrative threads: the battle for a very personal truth and the empowerment that goes along with a certain kind of search for this truth.
"One has no idea which reality will hold", speaks the voice with great verisimilitude as wisps of fog cast the grove into a dull, diffuse light. And somewhere in the middle: a woman who may appear to be
lost
but has really always been
found in uncertain space
.
(Sebastian Höblinger)
Credits:
Scripting | directing | editing: Annja Krautgasser
Camera: Martin Putz
Camera assistent: Wolfgang Oblasser
Research assistent: Gerald Straub
Production assistent | casting: Anna Spanlang
Dramatic composition: Marie-Therese Thill
Sound recording | sound editing | mastering: Peter Kutin
Alva | voice-over: Juliane Zöllner
Journalist: Alexander Ebeert
Off-text from the novel
so viele Tage
by Agnès Hoffmann
Supported by BKA, Land Tirol, and ÖBF (Wildmedia)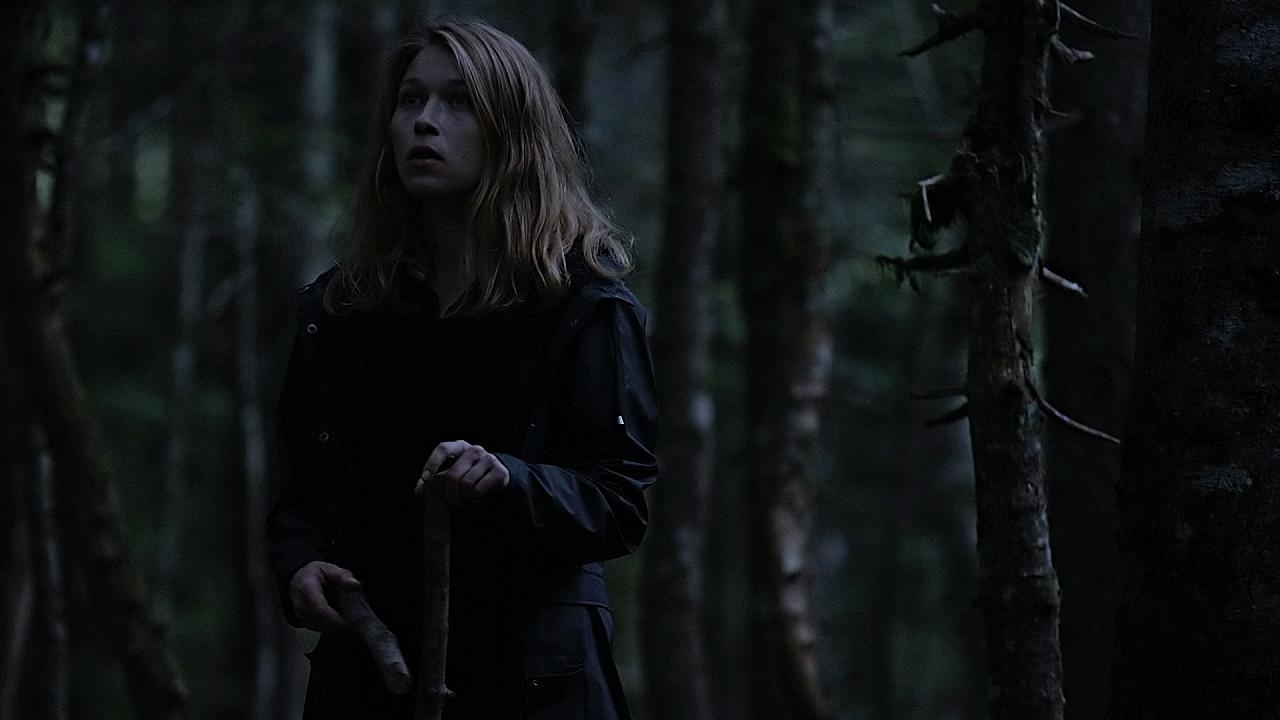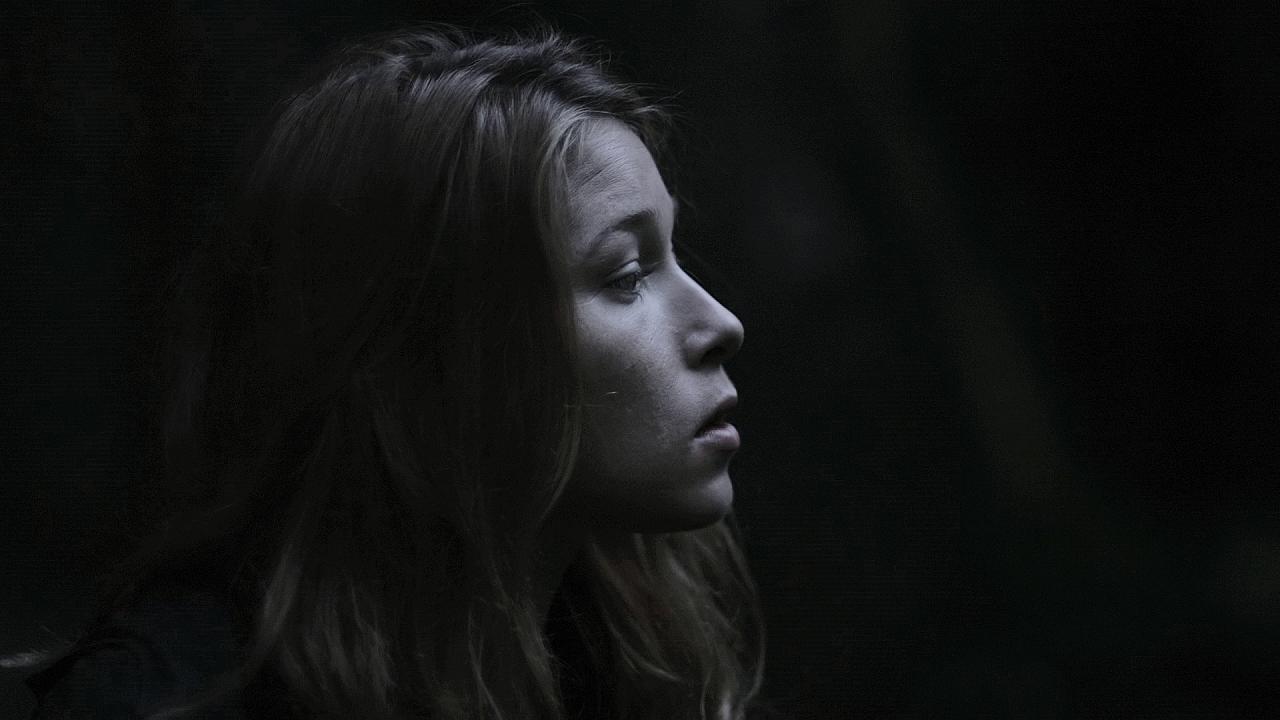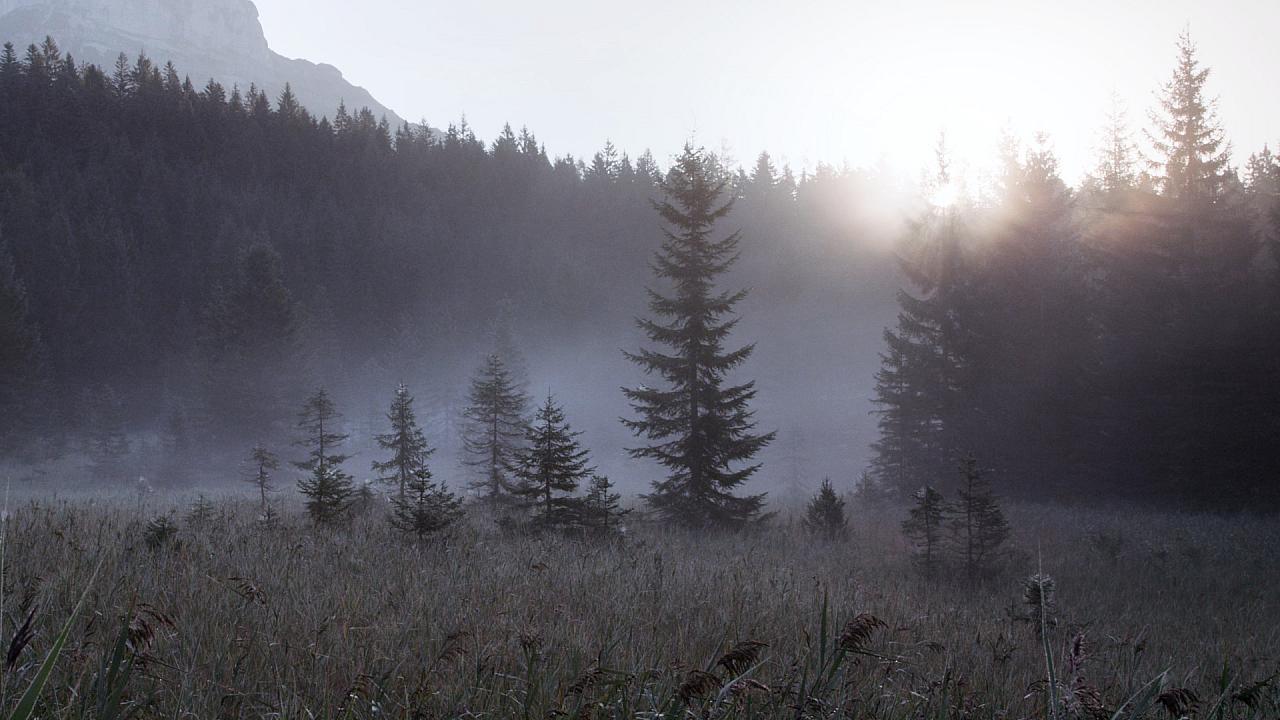 © video still
Waldszenen
(sequence)
A 2015 | 30 min | HD 16:9 | colour | stereo | engl. UT
Scenes From a Forest
A 2015 | 30 min | HD 16:9 | Farbe | Stereo | engl. UT
A young woman in a dark, shiny raincoat is alone, underway in the woods. Later, while walking she will give a long interview. A profile of "Alva Aktivismus" from Leipzig forms from the catalogue of personal and political questions that she answers a young man and his small recording team. The monosyllabic actor serves as a projection surface and model. A woman's voice from off screen offers another, multifaceted (life) story.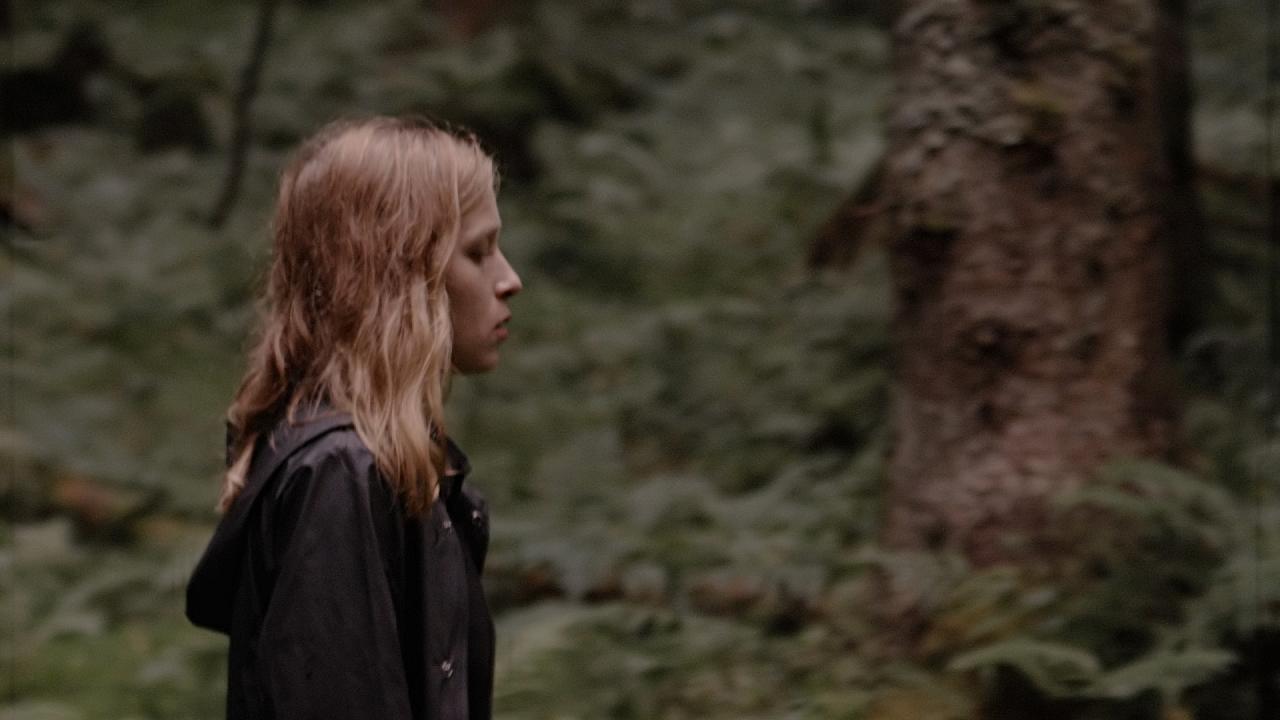 © video still
Thus, right from the start, Annja Krautgasser's Scenes from a Forest plays with several levels—and can be described as a small compendium of forms of filmic expression. It begins with silent slow-motion takes. Following static, landscape panoramas are a plan sequence of horizontal movements, hand-camera actions, and close-ups, behind which the environment disappears. In a scant half hour, the film plays through various genres.
Scenes from a Forest is a literary essay, (fictional) portrait of a woman, landscape study, and nature documentary, while also containing trace elements of drama, horror, and mystery.
The medium and its history are also ultimately discovered as points of reference when Krautgasser refers explicitly to pre-images at three points: the long interview scene is identified as a re-enactment of the interview in Jean-Luc Godard's
One Plus One
. The other two references are the pilgrimage scene from
Forst
by Ascan Breuer, Ursula Hansbauer and Wolfgang Konrad; and the demon invocation from
Tropical Malady
by Apichatpong Weerasethakul. Agnès Hoffmann, author of the novel so viele Tage, which provides the off-screen texts, has, incidentally, already published on this process in Leipzig's Nachsteller Verlag.
(Isabella Reicher, Translation: Lisa Rosenblatt)