Prologue
2007, PAL 4:3, 4 min, colour, silent
© Exhibition view,
Übersetzung ist eine Form.|Translation is a mode.
,
Kunstraum NÖ, 2010. Photo: Franz Thalmair
What's the matter?
Nothing. Just looking at you.
You're angry I left without a good-bye?
No, I was furious because I was sad.
Do you love me?
Yes, I love your eyes, I love your mouth, I love your knees, I love your ass, I love your hair, I love your hands.
So you love me completely?
A dialogue from a relationship, perhaps even a love affair, sometimes tenderly playful sentences, sometimes incidental comments aimed at a trusted "partner," sometimes with overtones of jealousy. There are strange shifts in the speech. Occasionally, the utterances do not fit one another properly. At the same time some things sound familiar, as if they had already been heard somewhere.
What appears to represent something approaching a conversation in
Prologue
later unfolds solely on boards of text in white lettering on a black background. There are no sounds to be heard, no speakers' voices. There is no acoustic or visual space of reference to define this dialogue beyond its typographical representation.
The sentences are "found footage," so to speak, elements of dialogue that Annja Krautgasser has taken from a series of classic films, especially films by Godard or Antonioni, transferred into English and then arranged in a "fictive" spoken collage. Her selection concentrates on passages where the original protagonists were walking alongside one another, i.e. were moving, crossing a room. Precisely this decisive aspect of the excerpted text is entirely blended out in
Prologue
, which is reduced to only the language.
Not only is it this new montage of the dialogues in boards of text that creates the gaps responsible for the irritation, it is primarily the lack of a photographic or filmic point of reference.
Leaving out the appropriate images makes the dialogues less apparently taken from film scripts, as if taken from the isolated text-based world of the online (virtual) chatroom.
(Gerald Weber)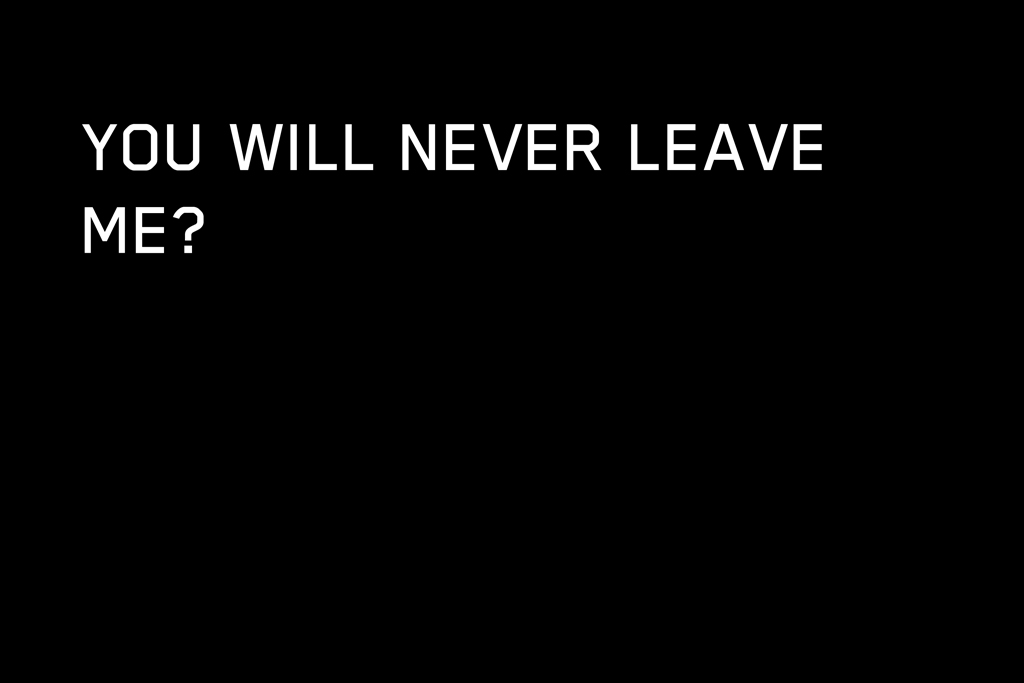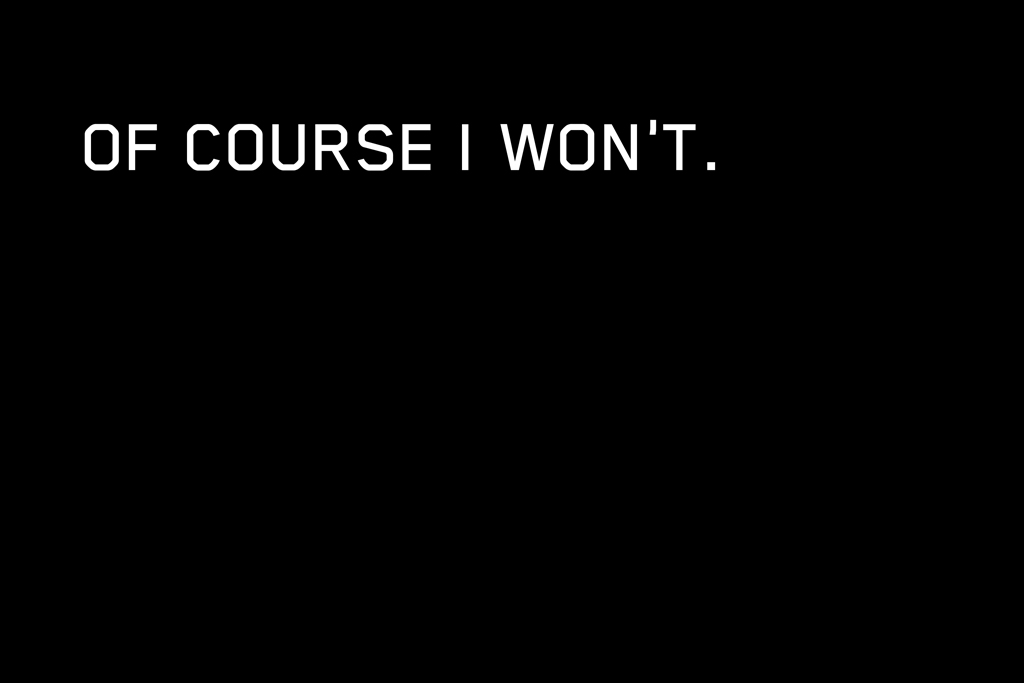 © Video stills
Fresh Trips 2
medien.kunst.tirol & Kunstraum Innsbruck, 2007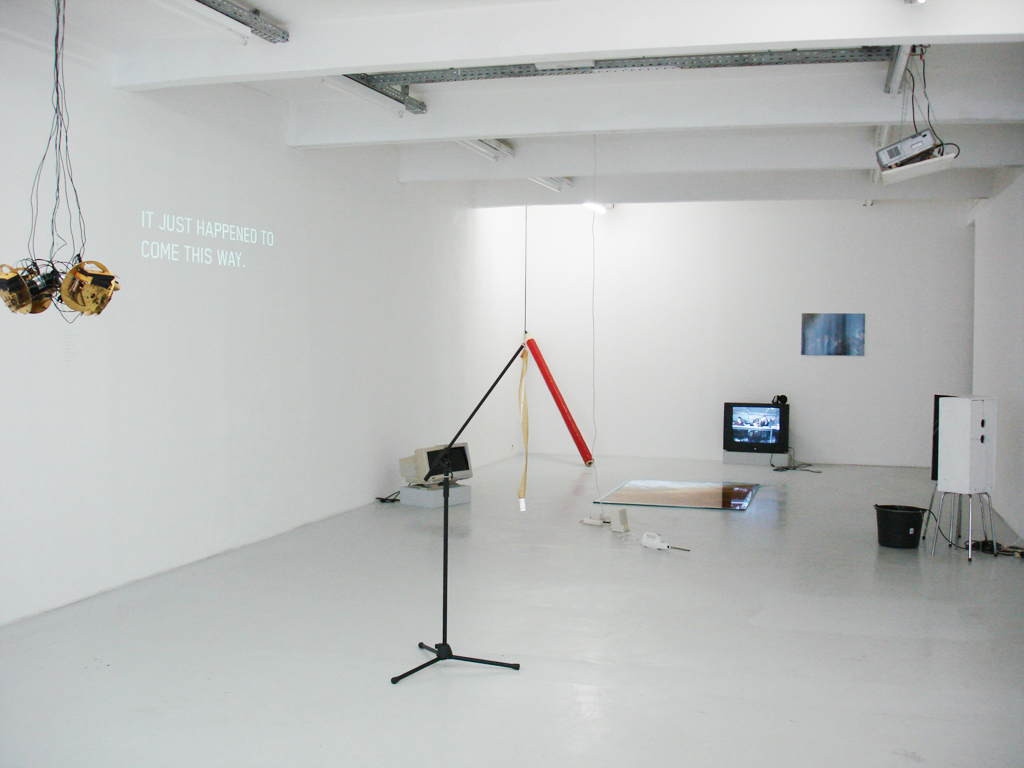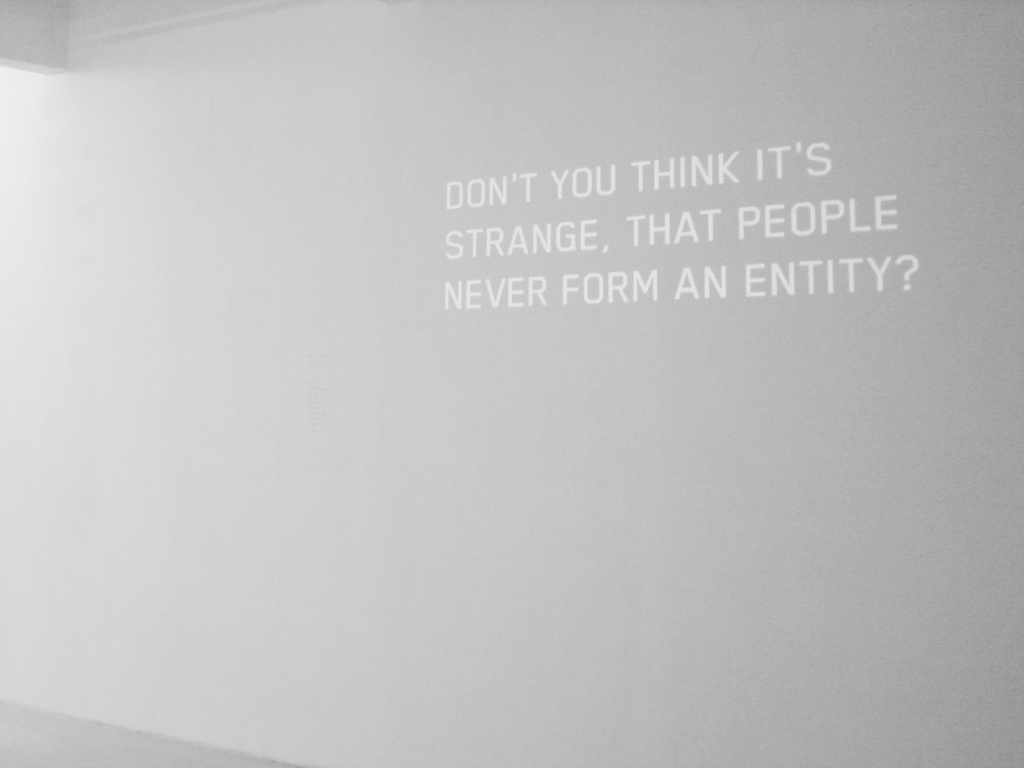 © Exhibition view
1 WHAT'S THE MATTER?
2 NOTHING. JUST LOOKING AT YOU.
3 YOU'RE ANGRY I LEFT WITHOUT A GOOD-BYE?
4 NO, I WAS FURIOUS BECAUSE I WAS SAD.
5 WHY DO YOU WANT TO COME WITH ME?
6 I'VE ALWAYS COME WITH YOU. WHY NOT TODAY?
7 I FEEL SICK.
8 AM I TAKING UP YOUR TIME?
9 NO, I HAD TO COME THIS WAY ANYWAY.
10 WHEREAS I CAME TO SEE YOU. WHAT A FOOL.
11 DO YOU LOVE ME?
12 YES, I LOVE YOUR EYES, I LOVE YOUR MOUTH, I LOVE YOUR KNEES, I LOVE YOUR ASS,
I LOVE YOUR HAIR, I LOVE YOUR HANDS.
13 SO YOU LOVE ME COMPLETELY?
14 YES. WHAT ABOUT YOU?
15 I LOVE YOUR FOREHEAD, I LOVE YOUR LEGS, I LOVE YOUR BALLS, I LOVE YOUR SHOULDERS,
I LOVE YOUR MOUTH.
16 SO YOU LOVE ME COMPLETELY?
17 IT WAS A TERRIBLE NIGHT.
18 I HARDLY RECOGNIZED YOU.
19 WHAT HAPPENED?
20 LIFE'S SO HARD. I'D LIKE TO GET AWAY.
21 YOU GO THAT ONE. I GO THIS ONE.
22 WHY COME HERE?
23 IT JUST HAPPENED TO COME THIS WAY.
24 IT HASN'T CHANGED AT ALL.
25 I GO ON WASTING MY LIFE, LIKE A FOOL.
26 TAKING WITHOUT GIVING OR GIVING TOO LITTLE.
27 YOUR TURN.
28 ONE, TWO, THREE, FOUR, FIVE, SIX, SEVEN, EIGHT,
NINE, TEN.
29 DON'T YOU THINK IT'S STRANGE THAT PEOPLE NEVER FORM AN ENTITY?
30 THEY DON'T MERGE. THEY ALWAYS KEEP SEPARATED.
31 EVERYBODY GOES ITS OWN WAY. MISTRUSTFULLY AND TRAGICALLY.
32 YOU'RE OK?
33 DO ME A FAVOUR. JUST BE NICE, OK?
34 ARE YOU SURE YOU ARE OK?
35 I'M YOUR FRIEND.
36 YOU ARE?
37 THE YEARS PASS BY. YOU LIVE YOUR LIFE.
I LIVE MY LIFE. EVERYTHING IS FINE.
38 YOU WILL NEVER LEAVE ME?
39 OF COURSE I WON'T.
40 WHEN WE GET OVER THERE I'M GOING TO KISS YOU.
Prologue.Print
Print version: 40 digital prints, lambda print, 50x70 cm, 2008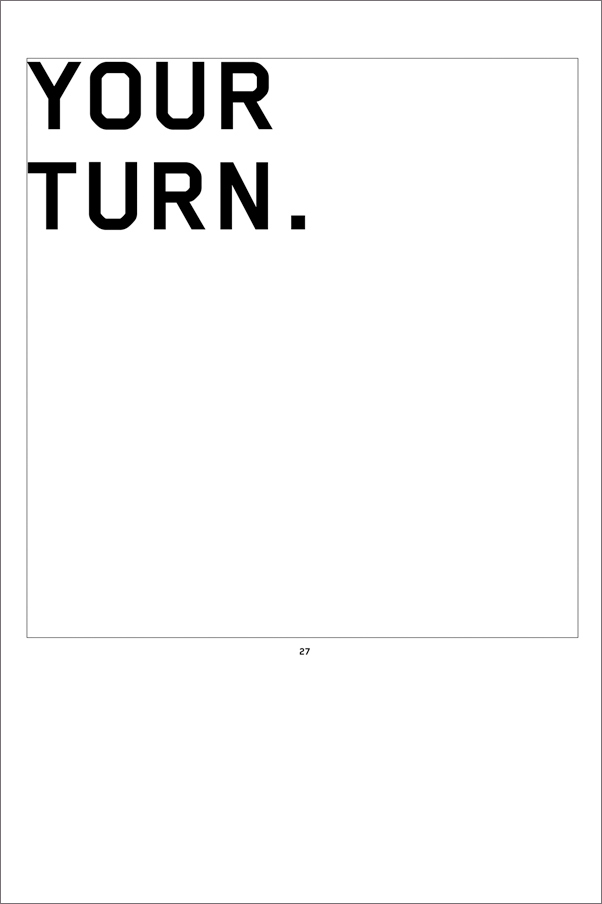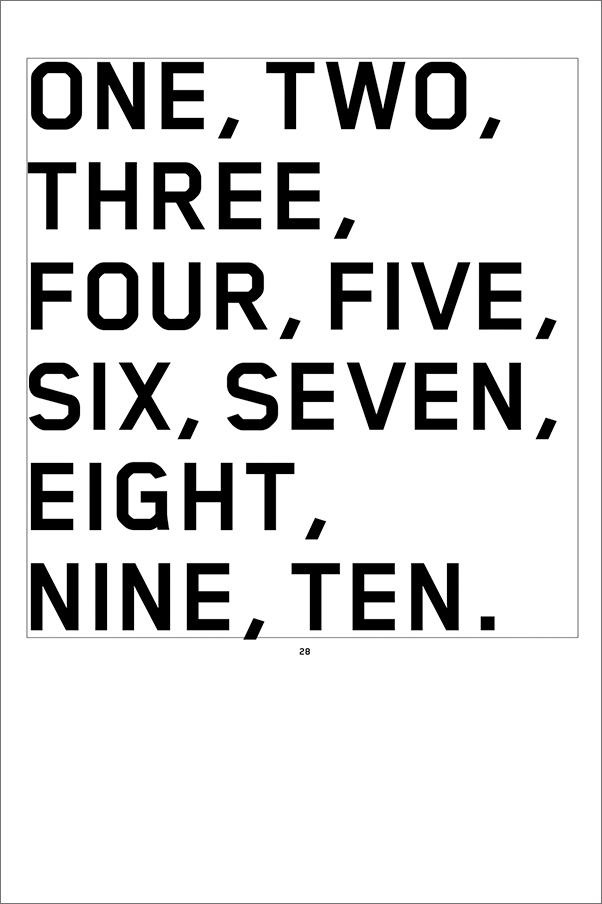 © Lambda print,
Nr.27
and
Nr.28
Die Dialoge stammen aus den Filmen:
À bout de souffle
, Jean-Luc Godard (1960)
La notte
, Michelangelo Antonioni (1961)
L'eclisse
, Michaelangelo Antonioni (1962)
Bande à part
, Jean-Luc Godard (1964)
Week end
, Jean-Luc Godard (1967)
Les Choses de la vie
, Claude Sautet (1970)
Tout va bien
, Jean-Luc Godard (1972)
Buffalo '66
, Vincent Gallo (1998)
Gerry
, Gus van Sant (2002)
Exhibitions: •
Fresh Trips 2
, medien.kunst.tirol & Kunstraum Innsbruck, Innsbruck, A 2007 •
Looking inside. Interiors
, The Centre of Art of the Museum of Mataró, Mataró, ES 2009 •
Translation is a mode.
, Kunstraum NÖ, Wien/Vienna, A 2010
No: 07-003