Prologue
2007, PAL 4:3, 4 min, Farbe, ohne Ton
© Ausstellungsansicht,
Übersetzung ist eine Form.
, Kunstraum NÖ,
2010. Foto: Franz Thalmair
What's the matter?
Nothing. Just looking at you.
You're angry I left without a good-bye?
No, I was furious because I was sad.
Do you love me?
Yes, I love your eyes, I love your mouth, I love your knees, I love your ass, I love your hair, I love your hands.
So you love me completely?
Ein Dialog einer Beziehung, vielleicht sogar einer Liebe, mal zärtlich verspielte Sätze, mal beiläufige Kommentare an ein vertrautes "Gegenüber" gerichtet, mal Anklänge von Eifersucht. Es gibt seltsame Verschiebungen im Gespräch. Bisweilen passen die Dialoge nicht so richtig zueinander. Gleichzeitig scheint manches vertraut, schon einmal irgendwo so gehört.
Das, was sich in
Prologue
als so etwas wie ein Gespräch darstellt, entfaltet sich allerdings ausschließlich über Texttafeln, über weiße Schrift auf schwarzem Grund. Wir hören keinen Ton, keine Stimmen der Sprechenden. Es gibt keinen akustischen oder visuellen Referenzraum neben der Typografie, der diese Dialoge definieren könnte.
Die Sätze sind sozusagen Fundstücke, Gesprächsteile, die Annja Krautgasser einer Reihe von Filmklassikern, allen voran Filmen von Godard oder Antonioni, entnommen, ins Englische übertragen und dann zu einer "fiktiven" Gesprächscollage geordnet hat. Wobei sich ihre Auswahl auf solche Passagen konzentrierte, in denen die Protagonisten gerade nebeneinanderher gingen, sich also in Bewegung befanden, einen Raum durchmaßen. Genau dieser für die Auswahl der Textstellen entscheidende Aspekt wird freilich in der auf Schrift reduzierten Form von
Prologue
zur Gänze ausgeblendet.
Nicht nur die Neumontage der Gespräche in den Texttafeln, vor allem das Fehlen eines fotografischen bzw. filmischen Bezugsraumes, schafft dabei jene Leerstellen, die für die Irritationen verantwortlich sind. Durch die Verweigerung des dazugehörenden filmischen Bildes scheinen die Gespräche weniger einem kinematografischen Script entnommen, sondern vielmehr der räumlich isolierten literarischen Welt eines virtuellen Chatrooms.
(Gerald Weber)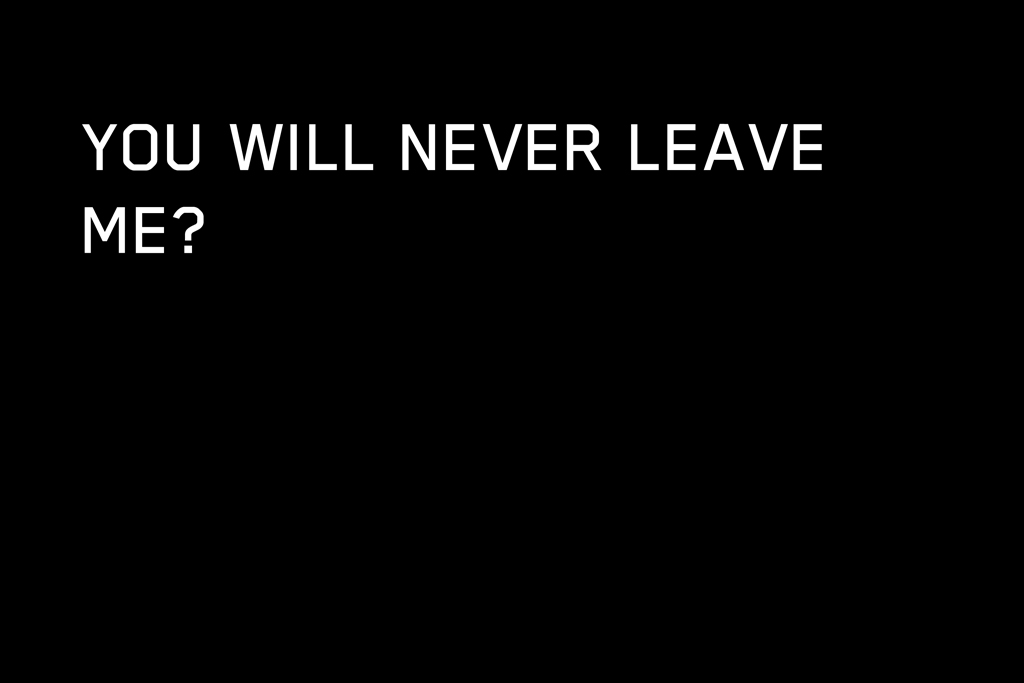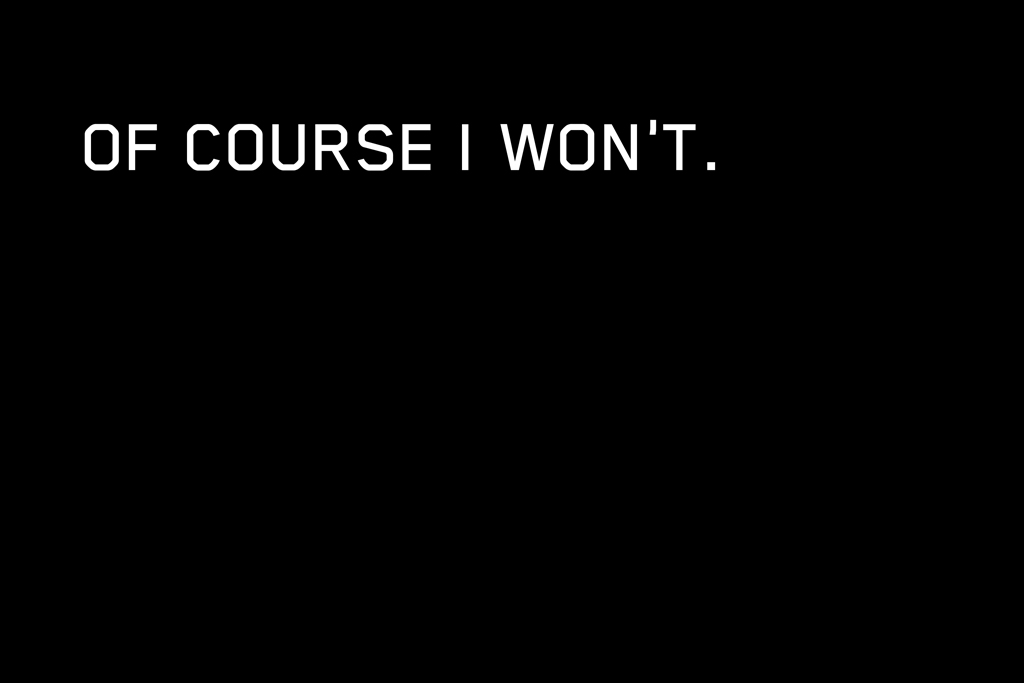 Fresh Trips 2
medien.kunst.tirol & Kunstraum Innsbruck, 2007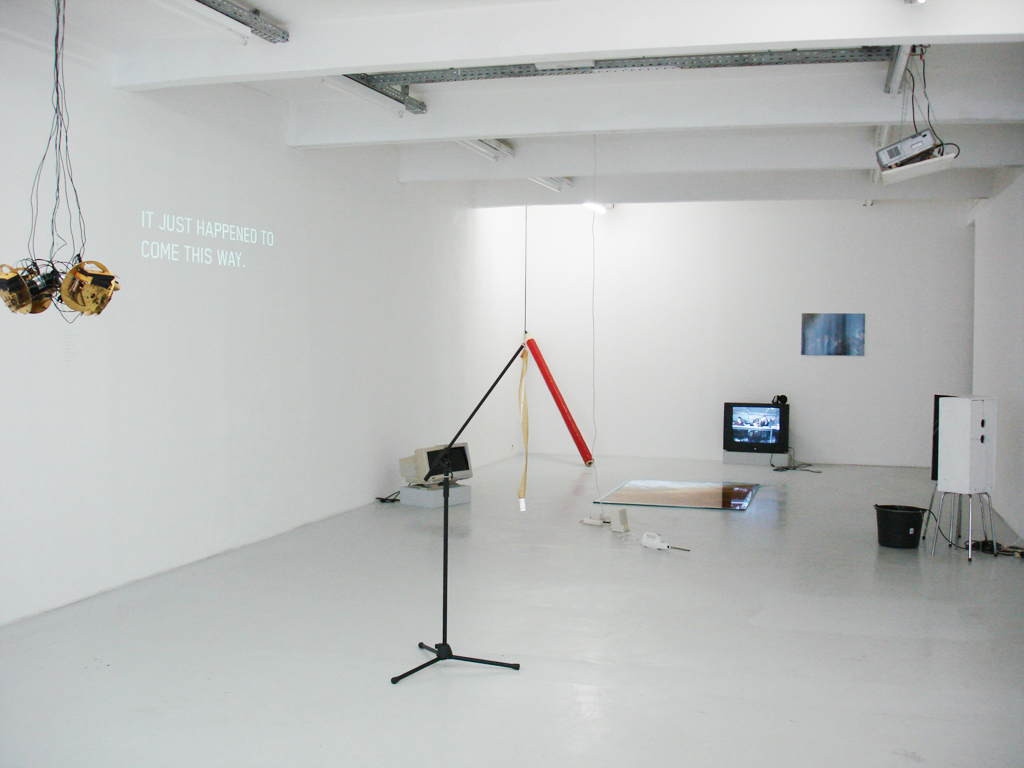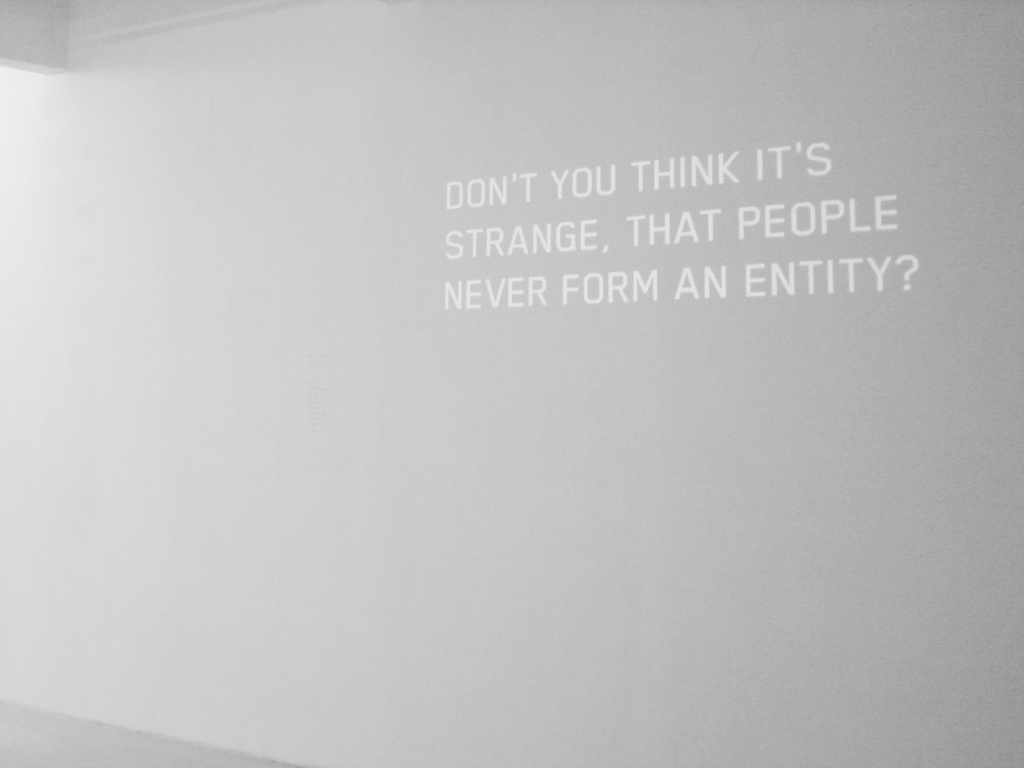 © Ausstellungsansicht
1 WHAT'S THE MATTER?
2 NOTHING. JUST LOOKING AT YOU.
3 YOU'RE ANGRY I LEFT WITHOUT A GOOD-BYE?
4 NO, I WAS FURIOUS BECAUSE I WAS SAD.
5 WHY DO YOU WANT TO COME WITH ME?
6 I'VE ALWAYS COME WITH YOU. WHY NOT TODAY?
7 I FEEL SICK.
8 AM I TAKING UP YOUR TIME?
9 NO, I HAD TO COME THIS WAY ANYWAY.
10 WHEREAS I CAME TO SEE YOU. WHAT A FOOL.
11 DO YOU LOVE ME?
12 YES, I LOVE YOUR EYES, I LOVE YOUR MOUTH, I LOVE YOUR KNEES, I LOVE YOUR ASS,
I LOVE YOUR HAIR, I LOVE YOUR HANDS.
13 SO YOU LOVE ME COMPLETELY?
14 YES. WHAT ABOUT YOU?
15 I LOVE YOUR FOREHEAD, I LOVE YOUR LEGS, I LOVE YOUR BALLS, I LOVE YOUR SHOULDERS,
I LOVE YOUR MOUTH.
16 SO YOU LOVE ME COMPLETELY?
17 IT WAS A TERRIBLE NIGHT.
18 I HARDLY RECOGNIZED YOU.
19 WHAT HAPPENED?
20 LIFE'S SO HARD. I'D LIKE TO GET AWAY.
21 YOU GO THAT ONE. I GO THIS ONE.
22 WHY COME HERE?
23 IT JUST HAPPENED TO COME THIS WAY.
24 IT HASN'T CHANGED AT ALL.
25 I GO ON WASTING MY LIFE, LIKE A FOOL.
26 TAKING WITHOUT GIVING OR GIVING TOO LITTLE.
27 YOUR TURN.
28 ONE, TWO, THREE, FOUR, FIVE, SIX, SEVEN, EIGHT,
NINE, TEN.
29 DON'T YOU THINK IT'S STRANGE THAT PEOPLE NEVER FORM AN ENTITY?
30 THEY DON'T MERGE. THEY ALWAYS KEEP SEPARATED.
31 EVERYBODY GOES ITS OWN WAY. MISTRUSTFULLY AND TRAGICALLY.
32 YOU'RE OK?
33 DO ME A FAVOUR. JUST BE NICE, OK?
34 ARE YOU SURE YOU ARE OK?
35 I'M YOUR FRIEND.
36 YOU ARE?
37 THE YEARS PASS BY. YOU LIVE YOUR LIFE.
I LIVE MY LIFE. EVERYTHING IS FINE.
38 YOU WILL NEVER LEAVE ME?
39 OF COURSE I WON'T.
40 WHEN WE GET OVER THERE I'M GOING TO KISS YOU.
Prologue.Print
Printversion: 40 Digitaldrucke, Lambdaprint, 50x70 cm, 2008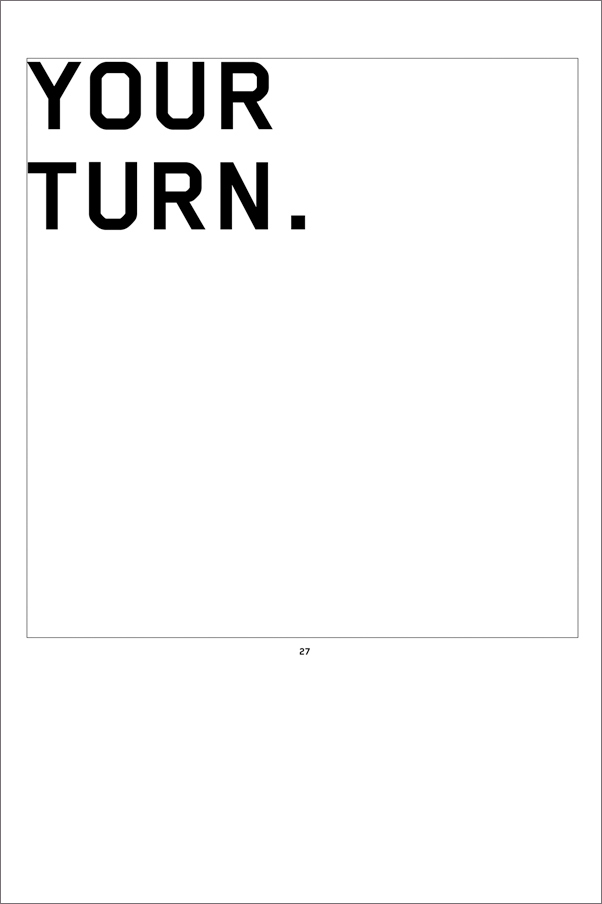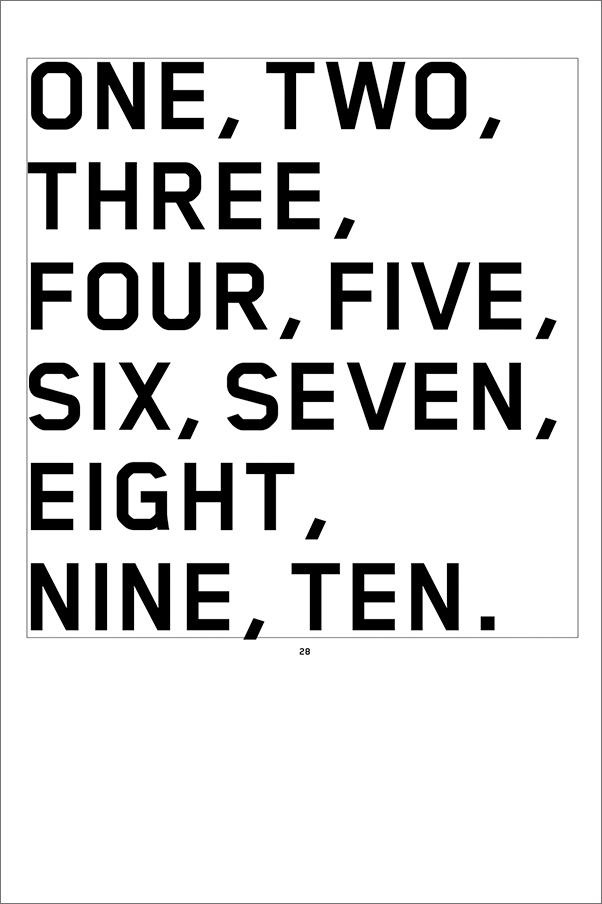 © Lambdaprint,
Nr.27
und
Nr.28
Die Dialoge stammen aus den Filmen:
À bout de souffle
, Jean-Luc Godard (1960)
La notte
, Michelangelo Antonioni (1961)
L'eclisse
, Michaelangelo Antonioni (1962)
Bande à part
, Jean-Luc Godard (1964)
Week end
, Jean-Luc Godard (1967)
Les Choses de la vie
, Claude Sautet (1970)
Tout va bien
, Jean-Luc Godard (1972)
Buffalo '66
, Vincent Gallo (1998)
Gerry
, Gus van Sant (2002)
Ausstellungen: •
Fresh Trips 2
, medien.kunst.tirol & Kunstraum Innsbruck, Innsbruck, A 2007 •
Looking inside. Interiors
, The Centre of Art of the Museum of Mataró, Mataró, ES 2009 •
Translation is a mode.
, Kunstraum NÖ, Wien/Vienna, A 2010
Wvnr: 07-003