Track 09
2001, PAL 4:3, 3:30 min, colour, stereo, music: Shabotinski - (B)ypass (K)ill:
Schniebeln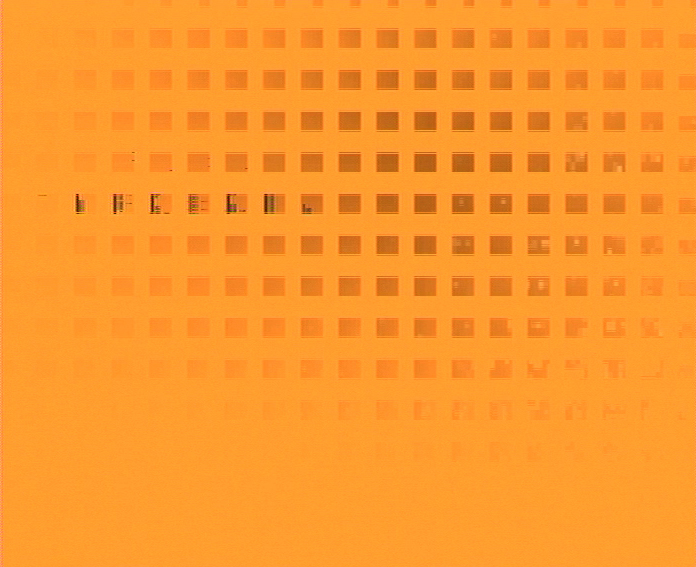 © Video still
A lively geometric ballet, abstract façade architectures, or possibly Tetris the computer game gone berserk? The associations evoked by the video
Track 09
represent a paradigmatic crosssection of modern electronic culture. There is no torrential morphing of images, no unending sequence of special effects, nor chaotic fantasy animation. Annja Krautgasser's style of visual composition is characterized by a reductionistic method of dealing with abstract geometric parameters which produces a truly self-contained visual counterpart to the music's electronic crackling.
In combination with the elegantly grooving
Schniebeln
by Shabotinski, a blueprint for a matrix of sounds and images results, and the in-herent range of possible variations is fully exploited by means of recursive (digital) tricks. As in her previous videos
Perceptive Faculty 2
and
Rewind
, Annja Krautgasser [n:ja] employs simple structural variations in
Track 09
. A geometric grid of variable grayshade windows opens on a mono-chromatic orange surface. Rotation, zoom and then a dance of bars and pixels are used to create a diagonal and vertical ballet which increasingly seems to conform to some kind of order. The constantly modulating windows, independently organized so to speak, are brought into every conceivable position until an additional zoom leads to the "refrain" and a reflection of the entire matrix's structure is produced. The aesthetic of early computer games is juxtaposed with a futurism which concentrates on form; musical accompaniment of retro saxophone and theremin escorts an immersion into deobjectified futuristic façades.
(Christian Höller)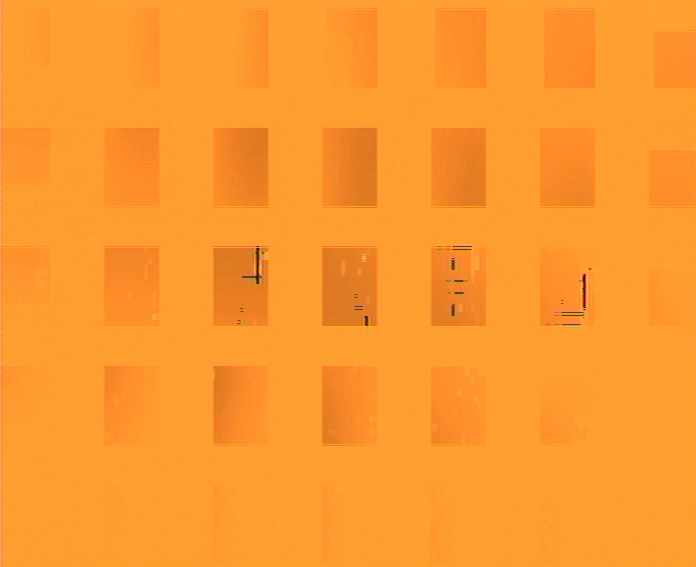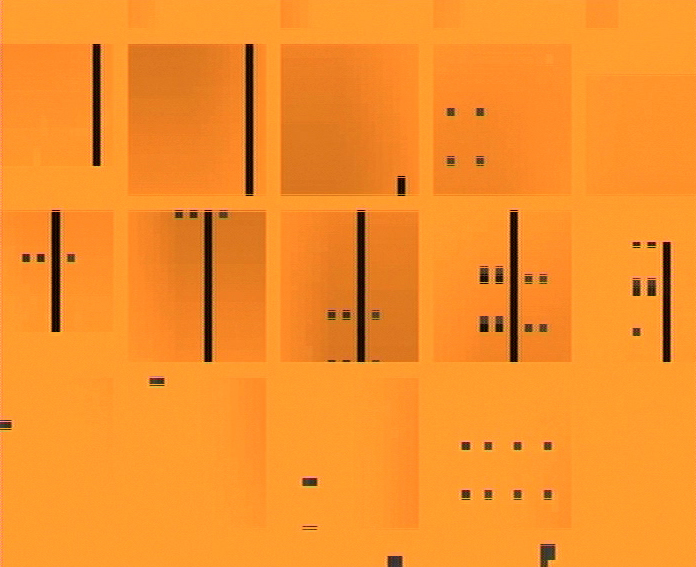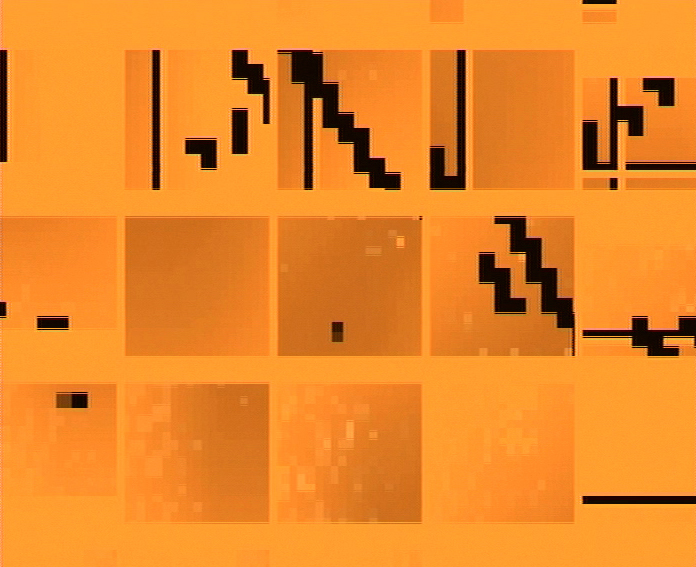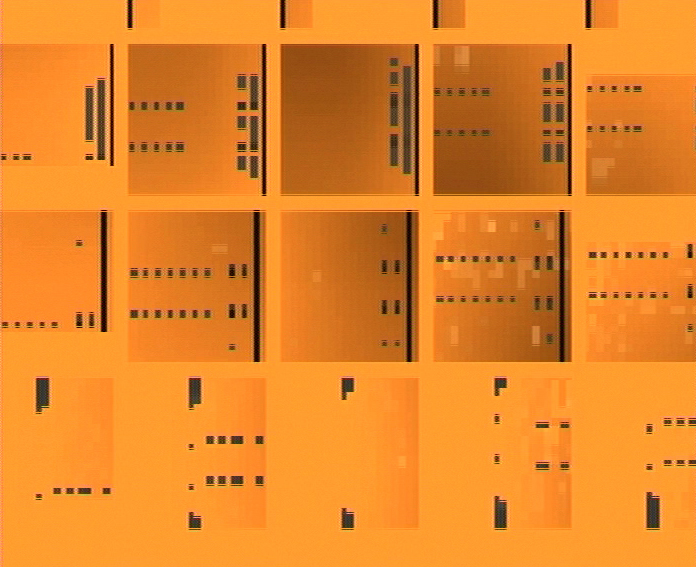 © Video still
[VIDEO]:
Track 09
Exhibitions:
•
LKW Kunst in der Stadt – 19 Räume
, Kunstverein Bregenz, Bregenz, A 2000 •
Sound Files
, Künstlerhaus Wien, Wien/Vienna, A 2001 •
Variable Stücke
, Galerie im Taxispalais, Innsbruck, A 2001 •
coord()
, Kunstverein Medienturm, Graz, A 2003 •
See the Rhythm!
, KBB Art Space, Barcelona, E 2004
Festivals:
•
Diagonale – Festival des Österreichischen Films
, Graz, A 2001 •
Avanto – Helsinki Media Art Festival
, Helsinki, FIN 2001 •
BackUp Festival
, Weimar, D 2001 •
Acces(s) Electronic Culture Festival
, Pau, F 2001 (Audio Visionen II) •
Wand 5 – 15. Filmwinter
, Stuttgart, D 2002 •
31. Internationales Filmfestival Rotterdam
, Rotterdam, NL 2002 •
Transmediale – Videofest 02
, Berlin, D 2002 •
The Zeppelin Sound Art Festival
, Barcelona, E 2002 •
Tokyo 02 – Image Forum Festival
, Tokyo, J 2002 •
VIDEOEX – International Experimental Film & Video Festival
, Zürich, CH 2002 •
Tricky Women
, Wien/Vienna, A 2003 •
Lille 03 – Rencontres Audiovisuelles
, Lille, F 2003 •
Trebon 04 – AniFest Film Festival
, Prag/Prague, CZ 2004
No:
01-001
Video distibutions:
sixpackfilm